So long, Tenth Avenue North!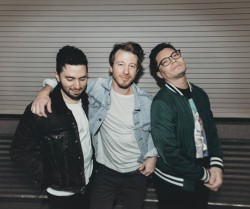 donderdag 27 februari 2020

21:51
Deze week is de Finally Living Tour van Tenth Avenue North van start gegaan. Maar nu is bekend gemaakt dat daarna het doek valt voor de Amerikaanse band. "It's been a glorious, hard-fought, and oftentimes, breathtaking journey. We feel like we've seen it all. The Fights. The Victories. Forgiveness. Mercy. Oh yeah. Truck loads of mercy," laat de band weten via social media.
Zanger Mike Donehey is het enige bandlid dat vanaf de start van de band in 2000 onderdeel was van Tenth Avenue North. De groep bestaat verder uit Jeff Owen en Ruben Juarez III. In de persoonlijke boodschap vertelt de band dat ieder bandlid voor zichzelf na de 20 jaar van het bestaan van de band nieuwe dromen heeft ontwikkeld en dat het tijd is om elkaar aan te moedigen om te gaan.
Misschien heb je de band in 2011 gezien op het Flevo Festival. Wil je ze nog live zien? Dan moet je toch echt naar Amerika toe en vooral niet te lang wachten. Op 5 april geeft de band de laatste show van deze plotselinge afscheidstournee.